Developer
Staff member
Developer
Donator
Joined

Jul 30, 2016
Messages

522
Points

57
Age

20
​
Hello, players of JartexNetwork!
A while ago we announced the planned update of our
Minigame servers
and the direction we would like to go to with the current state of these games. If you haven't read the post, you can read it
here (click)
. This post contains a few of the features we have in mind, and some extra general information.
Today I can finally share even more information about one of the biggest updates so far, the
Minigame update
. The development is still going, and with our new developers

Hipppo
&
DelfinoSquare
we can even create many more features for this upcoming update. This post is meant to keep the community updated with what we're doing behind the scenes, and to gather feedback to adjust the new/changed features we're creating.

One of the main things we want to reach with this update is to tweak our games to the current state of the game. The gameplay we're currently running on has been here for a while, so it's time for something new & spicy. Here are some gameplay related updates I can share with you all:

Improved Game design.

One of the first things we wanted to do was to update the

style

that the games/lobbies give to you when you're playing at JartexNetwork. We followed some new basic pattern in all of the game modes, which means the game modes will give you a 'Jartex' feeling, currently, all of the minigames are looking differently, and with this new upcoming update we made all of our games in a

new and refreshed Jartex style

. Every single game mode got tweaked & changed, and we indeed looked at the feedback we received from the community when we made these changes.

We're also planning on updating all of our minigame lobbies with lots of new features like;

▪

Parkours


▪

Cosmetics


▪

Easter eggs


▪

... and much more to explore yourself!

These are just a few of the cosmetics we've added. We added a lot more, and we might spoiler some every now and then on our discord, and/or Twitter. So make sure to follow us on twitter, and become a member of our discord server today!

▪

Twitter

: https://twitter.com/JartexNetwork ▪

Discord

: https://jartexnetwork.com/discord

A complete rework of EggWars.

I am glad to make our EggWars players happy with this news. We took our time to improve, recreate, and adjust EggWars here at Jartex. We changed the looks, the gameplay, and the system behind the games to make it more performance friendly, which means you, as a player, will experience much less lag when playing our newer version of EggWars!

Reasons to grind games.

One of the main reasons to keep on playing is to get a reward for your input. We tried to improve this in all of the games, and here are a few of the things we added/changed:

▪ D

aily, weekly, monthly & lifetime stats!

The leaderboards can now show all the different categories of these statistics.

▪

More statistics per game mode

instead of just kills and deaths.

▪

Missions have been added to every game, these missions can be completed every day, once every three days and every week.

The missions will be randomly assigned
from a list of pre-defined missions, and I can guarantee you that these missions will change your gameplay when grinding missions. ▪ Rewards for completing missions and playing games. ▪

Kits can be upgraded to different levels now.

The higher the level, the better the kit, we reward grinding players with more features to get better this way.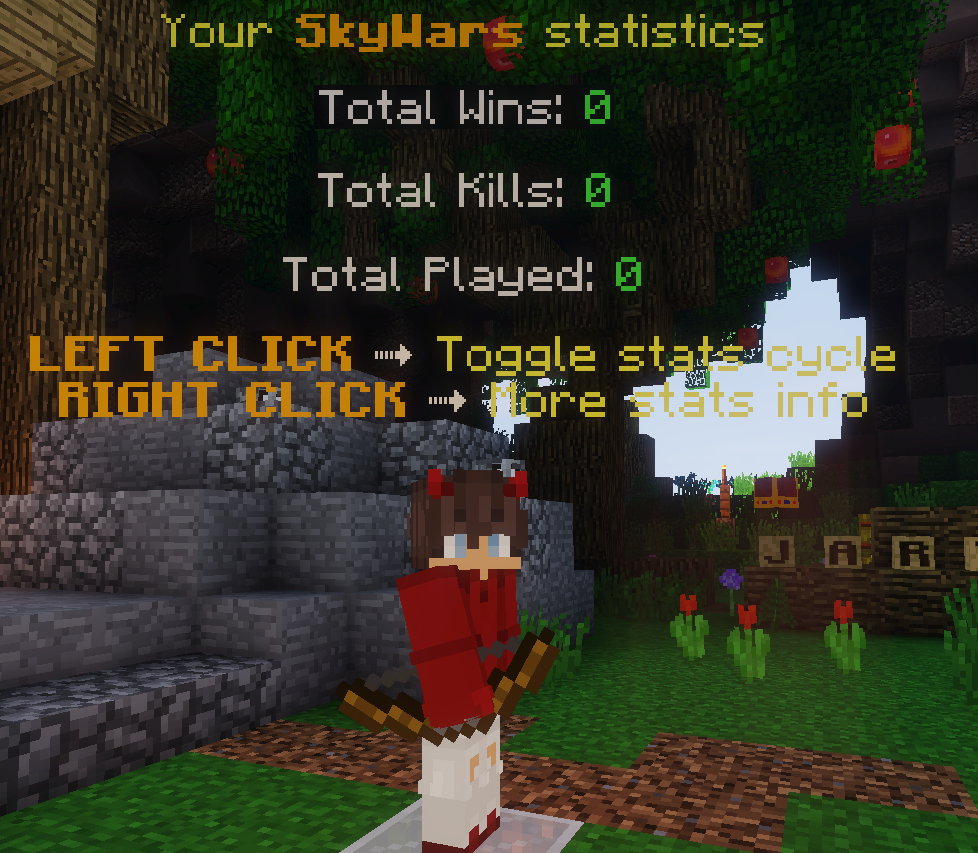 This NPC will show your own skin, because these are your personal statistics of course!
Your personal Jartex level.
The perfect way to show off your skills here at Jartex. Earn experience by completing missions, playing games, getting kills, a plenty of ways to grind up your level to show it off with some crazy lobby/in-game cosmetics that will be unlocked with the Jartex Level. Your Jartex level is only available on the minigames and will be the same on every game mode, so you can grind up your level with different game modes.

This is just a small part of all of the new features we're planning to add. The progress is insane, and we're trying to get the puzzle complete by getting all the features together in one. We can not give a release date yet, but we will be able to in the near future, so stay updated on our social networks! But we are still looking for more community feedback, to make this update not the biggest, but also one of the best updates at Jartex so far! So please fill in a suggestion on our forums and we will let you know if we are going to add this or not. Together we can make this update an update to never forget!