Developer
Staff member
Developer
Donator
Joined

Jul 30, 2016
Messages

516
Points

57
Age

20

​

Hello, players of JartexNetwork!

A while ago we announced the planned update of our

Minigame servers

and the direction we would like to go to with the current state of these games. If you haven't read the post, you can read it

here (click)

. This post contains a few of the features we have in mind, and some extra general information.

Today we're announcing one of our first

Public Betas

,

for the reworked version of

EggWars

!

We have been working on a whole new version of EggWars, and the final goal is in sight. To help us finalize EggWars completely we decided to host a Public Beta starting on
7-14-2018 3 PM CEST!
What is a Public Beta?
A public beta is a stage when you release a playable version of the game to the community. We decided to do this with EggWars because EggWars has been reworked completely, and we want to make sure everything will be running like it should be. With this Public Beta, we can filter out our latest problems that occur in the game. So we're requesting you to report any bugs that you find while playing this new version of EggWars.
I found a bug, what do I do?
When you found a bug we would request you to fill out a bug report at our bug reports section found
here (click)
. When creating a bug report we would also request you to fill in the report as detailed as possible, and with proof if possible. With a detailed explanation, we will be able to fix the bugs as soon as possible.
❖ Active Bug Reporters
will be getting
rewarded
once we finalize the game!
How can I play?
When you join the EggWars lobby you will see an NPC, when you click this NPC you will be sent to a game running our newest version of EggWars.
This game will run on one of our older maps, so don't be sad that you do not see any new maps on it yet, there will only be used 1 map and a handful of games so you will sometimes have to wait in the lobby when there are a lot of players willing to play. This NPC will be enabled
7-14-2018 3 PM CEST
and will stay active for a couple of days, the official ending of the Public Beta will be announced after it started.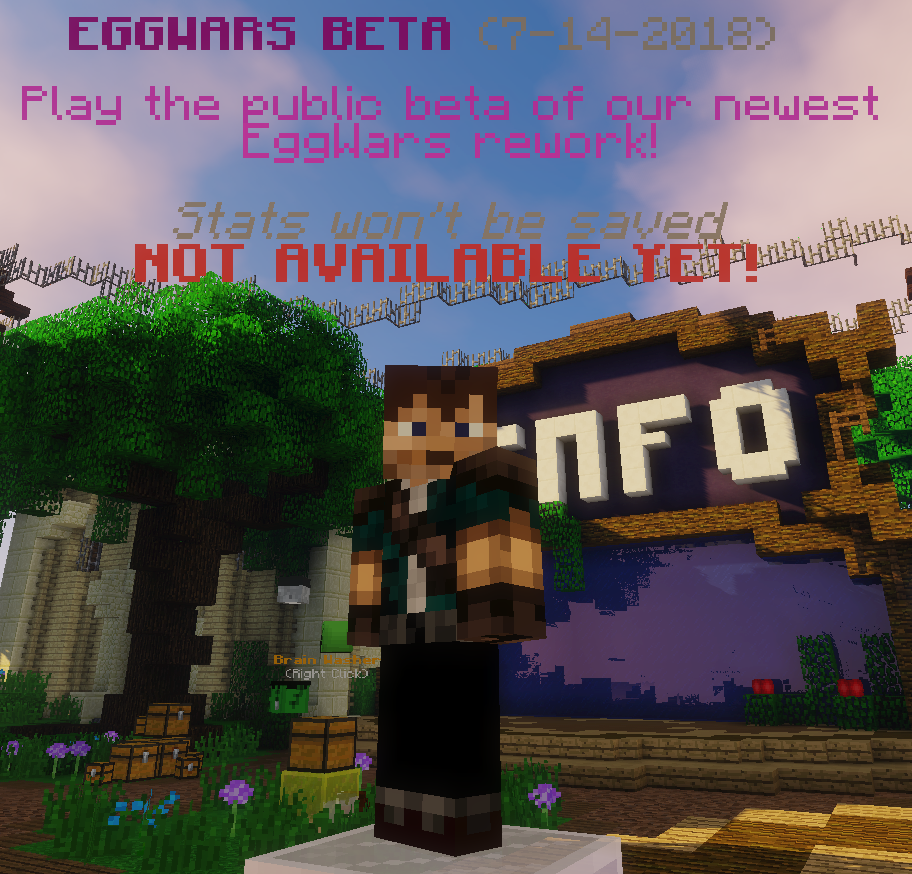 Beta countdown:
➟
Click here
or if that doesn't work visit this link:
http://itsalmo.st/#eggwarsbeta_o0vt9
We all hope you like the idea of a
Public Beta
, and if it all turns out well we for sure will be hosting more of them in the future. I hope to see you there at the Public Beta of the newest version of
EggWars
! Bug fixes, changes and more information about EggWars will be notified using the Changelog section found in the menu bar above on our website, or
here (click)
.