Donator
Great Reporter
Donator
Joined

May 5, 2020
Messages

1,008
Points

77
Age

14
In this thread the following will be explained:
- What is UHC
- What versions of UHC does Jartex have?
- How do you play
- Some tips
What is UHC?
UHC, or Ultra Hardcore is a survival based game mode where there is no natural regeneration. Players must gather materials and fight to be the last one standing. Their only method of healing, golden apples and potions.
UHC in Jartex.
Jartex Network Offers 2 versions of UHC. UHC random, and UHC normal. UHC normal is your typical UHC however UHC random is different. In UHC random, every block you break will drop a random item. It's the same concept of being the last one alive, but in some cases it can be harder than UHC normal because it can be difficult to obtain certain items.
How do you play UHC?
First off to get to UHC you must be logged in on Jartex. From there use the compass to navigate to UHC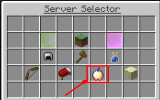 Now, select either NPC, normal or random. You are now in a game, once there are enough players you will be teleported to start your match.
What do I do now? (UHC Normal)
If you are playing UHC normal the first thing you want to do is break some trees for wood and apples. Apples will help you later on when you find gold. After making a set of wooden tools its time to start mining. Head into a cave and get as much gold, iron, (and possibly diamonds) as you can. After getting a decent amount of iron and gold think about crafting golden apples and armor. Getting armor and tools is important, as you would want to deal more damage, and also take less damage since every heart is important. If you have armor, some food, and golden apples, heading to the surface is recommended. Staying in a cave or underground while phase 2 (PVP) enables does 3 things:
- Makes it harder to avoid the incoming border
- Limits your visibility of other players
- Makes you miss out on kills (which can supply more loot)
Once you are on the surface start heading to the middle, this way you won't need to worry about the border, and Supply Crates will be easier to find (more about that later). If you see anyone with low health I would recommend going for them, as its an easy kill. With that being said, remember to watch your own health, if it gets low eat a golden apple. As the map shrinks everyone will get closer together and fights will become more intense. At this point everything you do is your choice, kill everyone and may the odds be in your favor
.
UHC Random
UHC random in my opinion is a completely different play style than UHC normal. As soon as the game starts break as many blocks as possible and hope for the best. Since every block drops a random item there isn't a real "plan" for this mode. Once you break a block you may get more blocks which you can place and repeat. Having the default kit selected will help you break blocks quicker, it comes with a stone axe, stone shovel, and stone pickaxe. Once you have the materials to make armor craft it. As PVP enables find people and kill them for better loot. Make your way to the middle as well to find Supply Drops, these are very useful in UHC random and when one has been dropped you should go and find it. These drops can hold great loot such as, Enchanted golden apples, armor, knockback slime balls, potions, and more. Once you are kitted up, find the other players and kill them.
General Tips
- Have a water bucket
Watch buckets can prevent fall damage and can help you escape a fight high off the ground, as well as stop fire from burning you.
- Get supply crates
When a supply crate has been dropped the coordinates will be shown in chat, these crates give huge advantages if claimed.
- Stay on the surface
After getting geared up, get to the surface. This way, you can outrun the border, find people easier, and get better loot.
- Always have golden apples
UHC means no regeneration. The only way to keep your health up is by eating golden apples or crafting potions. Potions can be hard to get, use golden apples.
Conclusion
UHC is a fun game with multiple play styles. This guide should help you grasp the basic concept of UHC. If there is anything I should add / remove please let me know, and have a good day ; DD
Yours,
Yanique1
Last edited: