JartexNetwork Bedrock Server
​
​
In order to join the JartexNetwork's Bedrock server, you must fill in the details as shown below.​
​
Server Name: JartexNetwork
​
Server IP Address: jartex.fun
​
​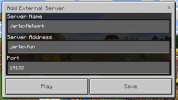 ​
Once you have filled in the blanks, you can get ready to join us and hundreds of other players from all around the globe to spend a great time! This doesn't end here though, the Bedwork and Java Minecraft editions are integrated, meaning that you will be able to join those who are playing on different platforms! Thanks to this, you don't have to worry about missing out with your friends who either play on other platforms.​
How to join using Minecraft Bedrock
​
​
You must follow very few simple steps in order to get your journey within our server started, make sure to follow these accordingly:​
Launch Minecraft on your device;
Click the button labeled "Play";
Click on "Servers";
Select the title labeled "Additional Servers";
Click "Add Server", and input the following details:

Server Name: JartexNetwork
Server IP Address: jartex.fun


You are good to go!
After having followed and completed these steps, you will be ready to join us and start your brand new journey on JartexNetwork. Have fun!​